2018 was the year I increased my pop culture diet.
This year saw the meteoric rise and fall of MoviePass and I was along for the ride. With my annual MoviePass, I saw 40+ movies in theaters this year. My subscription ended this past week, and sorry MoviePass, I won't be renewing. AMC's tempting A-List program lured me in, and I've been a satisfied member for 2 months now. I also finally signed up for my own Netflix account over the summer. I guess I'm an adult now?
Onto my favorites of the year!
TV SHOWS
JOE PERA TALKS WITH YOU
(Adult Swim)

Amidst the swirling chaos of 2018, the Adult Swim comedy Joe Pera Talks With You emerged as an endearing and absurd comfort, quickly becoming my favorite television show of the year.
In each episode, comedian Joe Pera, playing a mild-mannered character of the same name, invites you to explore a different aspect of his simple, everyday Michiganian life: "Joe Pera Takes You To Breakfast," "Joe Pera Show You How To Dance," "Joe Pera Reads You the Church Announcements." And that's it. That's the show. And so much more. All at once, Joe Pera Talks With You is gently heartwarming and absolutely funny, cleverly creating a world that builds upon itself in surprising ways; a world I love spending time in. It's sweet. It's peculiar. It's sincere. It's just eight eleven-minute episodes (plus a double-length finale).
Watch it now, in order. Thank me later.
SURVIVOR: DAVID VS. GOLIATH
(CBS)
In its 37th season, Survivor produced a top 5 installment in David vs. Goliath, thanks to its incredible casting of memorable characters who played the game to win. Dynamic storytellers abound, from my messy queen Angelina, who attempted the absolute most at every second, to the endearing robotics professor Christian. There was so much casting gold on Fiji, I wouldn't be surprised to see many of these players return. Thankfully, the twists and advantages did not overpower the gameplay, allowing some jaw-dropping Tribal Councils. Plus, the editing on David vs. Goliath was some of the show's best, bringing a fresh perspective and sly sense of humor. Here's hoping the show took away the right lessons from the overwhelmingly positive response to this season.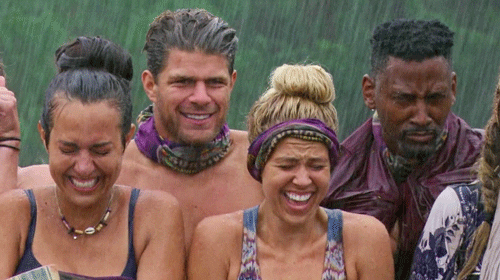 THE AMERICANS
(FX)
After six brilliant seasons of weaving complex characters through increasingly compromised circumstances, The Americans stuck the landing with a stunning, emotional payoff. Years of meticulous character building culminated in devastating consequences of Philip and Elizabeth Jennings' spycraft and domestic drama. The Americans is a masterful work of art and I will miss it terribly. The show and its two leads, Matthew Rhys and Keri Russell, deserved more awards recognition, dammit!
JANE THE VIRGIN
(The CW)

Jane the Virgin delivered one of the most shocking season finale cliffhangers in years. Full stop. Staying true to its telenovela roots, it was an astounding finish to an incredible season of television. Jane the Virgin continues to be a consistently satisfying series.
BOJACK HORSEMAN
(Netflix)
No other show serves such a potent mix of absurdity and tragedy. BoJack Horseman's fifth season tackled toxic masculinity, the #MeToo movement, opioid abuse, bereavement, and a sex robot named Henry Fondle. The "Free Churro" episode-length monologue was certainly a series highlight, but my favorite episode was "Mr. Peanutbutter's Boos," which playfully wove multiple years of Halloween parties into a revealing exploration of Mr. Peanutbutter's relationship patterns.
KILLING EVE
(BBC America)

A TV show created by a kickass woman starring and about two kickass women?! I was sold from the very start. From the mind of Fleabag's Phoebe Waller-Bridge, this cat-and-mouse spy drama starring Jodie Comer and Sandra Oh was a sexy, funny, and thrilling pleasure.
POSE
(FX)
Category Is: Queer Excellence and Queer Joy. Ryan Murphy's plunge into the ball culture of 1980s New York City was a glittering achievement. Queer and trans writers and actors were able to tell stories about queer and trans people. Pose's revelatory and revolutionary cast included the largest number of transgender actors in series regular roles for a scripted series, led by MJ Rodriguez and Indya Moore. While the show sometimes steered into the sentimental, its beating heart proved a fierce asset. Billy Porter's Pray Tell was one of my favorite performances of the year.
CRAZY EX-GIRLFRIEND
(The CW)
While the first half of Crazy Ex-Girlfriend's final season took some time to find its footing, the show's commitment to telling the story of Rebecca Bunch's mental health recovery has been fascinating and entertaining to watch. After hitting rock bottom, Rebecca is slowly, but surely, putting herself first (in a sexy and healthier way).
My favorite songs of the year include "Fit Hot Guys Have Problems Too," "I Want to Be A Child Star," and "Don't Be A Lawyer," with the A+ lyrics, "There are so many other professions that don't turn you into Jeff Sessions!" My one wish for Crazy Ex Girlfriend's final run of episodes is for a White Josh solo number. Please, oh, please!
THE GOOD PLACE
(NBC)
While the Earth-bound adventures of the Soul Squad lacked the soaring infinite potential of the afterlife, the mid-season finale "Janet(s)" was a tour de force of the show's extraordinary creativity and D'Arcy Carden's incomparable comedic talent, who played her own character (Janet) and the show's four leads (all as Janet).
ATLANTA
(FX)
The most audacious and mesmerizing episode of television this year belonged to Atlanta's "Teddy Perkins." This unsettling examination of the price of fame was a showcase for Lakeith Stanfield, Donald Glover, and Donald Glover's team of makeup artists.
HERE ARE 8 MORE (because it's 2018):

QUEER EYE (Netflix)
THE END OF THE FUCKING WORLD (Netflix)
THE ASSASSINATION OF GIANNI VERSACE: AMERICAN CRIME STORY (FX)
SALT FAT ACID HEAT (Netflix)
AMERICAN VANDAL (Netflix)
GLOW (Netflix)
GREAT BRITISH BAKING SHOW (PBS, Netflix)
CELEBRITY BIG BROTHER (CBS)

HERE ARE 2 SHOWS I BINGED ALL SEASONS OF IN 2018 AND LOOOVED:
SCHITT'S CREEK (Pop)

ONE DAY AT A TIME (Netflix)
---
FILMS
EIGHTH GRADE
(directed by Bo Burnham)

There are moments in Eighth Grade that are so real, it hurts. Call me a masochist for watching this film three times in theaters. Eighth Grade imbues the minutiae of the life of a quiet eighth grader with remarkable empathy. In his writing and screenplay debut, Bo Burnham has created a film so achingly honest, so painfully hilarious, so undeniably relatable, and so heartbreakingly human, that you can't help but burst into laughter and tears.
There are two details that I especially loved: Kayla's signed Bring It On: The Musical program and her Hamilton calendar. I love that Kayla has theatre kid in her. Burnham was a theatre kid too. Theatre kids are full of empathy.
ROMA
(directed by Alfonso Curarón)

Roma is a flat-out masterpiece. Through indelible black and white imagery, Alfonso Cuarón crafted a visually magnificent and intensely personal tribute to his memories and the beautiful chaos of life. Based on his upbringing in a middle-class family in 1970s Mexico City, Roma follows a year in the life of an indigenous domestic worker and fully immerses you in her life's smallest details among the sweeping world around her.
LEAN ON PETE
(directed by Andrew Haigh)

If you know me, you know I love a cathartic, emotional release, and my goodness, did this deliver. I came into Andrew Haigh's Lean On Pete expecting a sweet boy-and-his-horse story, and I left an emotional wreck. I hadn't cried that much at a movie theater since Moonlight. Lean On Pete is a raw, haunting, and heartbreaking film that will stay with me for a long time.
SPIDER-MAN: INTO THE SPIDER-VERSE
(directed by Bob Persichetti, Peter Ramsey, and Rodney Rothman)

Watching the wildly entertaining and wildly innovative Spider-Man: Into the Spider-Verse, my eyes lit up at every frame and I just couldn't stop smiling. It's my favorite superhero movie of all time. Have you ever wanted to be inside a living, breathing comic book? Thanks to overwhelmingly breathtaking animation rendered in vibrant Ben-Day dots, now you can! The promise that anyone can be Spider-Man is fully realized in Miles Morales' Brooklyn. This is diversity and inclusion in swinging action and the world is all the better for it.
SHOPLIFTERS
(directed by Hirokazu Kore-eda)

I watched the sublime Japanese film Shoplifters on the day it received a Golden Globe nomination for best foreign language film, and boy, was it a richly deserved recognition. Shoplifters is a beautifully observed drama that follows an impoverished makeshift family of petty thieves who takes in a neglected young girl. Kore-eda deftly explores the meaning of family through moments of quirky humor and quiet devastation. Prepare to fall in love with this dysfunctional band of outsiders.
CRAZY RICH ASIANS
(directed by Jon M. Chu)

There was no movie-going experience more memorable for me than watching Crazy Rich Asians in a sold-out advanced screening. I could feel that this audience, like audiences around the country, was starved to see themselves onscreen. Crazy Rich Asians was everything I could have hoped for. All hail, director Jon M. Chu, newly-minted movie stars Constance Wu and Henry Golding, and the rest of this fantastic ensemble, for revitalizing the romantic comedy and for showing that these stories matter and that these voices deserve to be heard. #RepresentationMatters
CAN YOU EVER FORGIVE ME?
(directed by Marielle Heller)

I found Can You Ever Forgive Me? to be such an utter delight of warm and weary queerness. Melissa McCarthy delivers a winning performance steeped in profound loneliness as Lee Israel, a struggling writer-turned-forger of literary letters from the likes of Dorothy Parker and Noël Coward. McCarthy and her partner-in-crime, played by the charismatic Richard E. Grant, are quite the winning pair.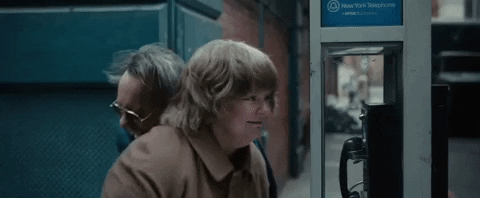 A STAR IS BORN
(directed by Bradley Cooper)

Bradley Cooper and Lady Gaga's effortless electricity and searing chemistry were more than enough reason to remake A Star Is Born for the third time.
WIDOWS
(directed by Steve McQueen)

Widows is a fucking thrill and it's a shame more people didn't see this Chicago-set heist film. Steve McQueen and Gillian Flynn did that. Viola Davis did that. Cynthia Erivo's arms did that.
TULLY
(directed by Jason Reitman)
I wasn't emotionally prepared for director Jason Reitman and writer Diablo Cody's Tully: an empathetic, bittersweet, and surprising film about the toll of motherhood and reconciling adulthood.
HERE ARE 8 MORE (because it's 2018):
PADDINGTON 2 (dir. Paul King)
BLACK PANTHER (dir. Ryan Coogler)
BURNING (dir. Lee Chang-dong)
FREE SOLO (dir. Jimmy Chin and Elizabeth Chai Vasarhelyi)
SEARCHING (dir. Aneesh Chaganty)
BLINDSPOTTING (dir. Carlos López Estrada)
THE FAVOURITE (dir. Yorgos Lanthimos)
LEAVE NO TRACE (dir. Debra Granik)

HERE ARE 2 MOVIES FROM 2017 THAT I SAW IN THEATERS IN 2018 THAT I LOOVED:
GOD'S OWN COUNTRY (directed by Francis Lee)

FACES PLACES (directed by Agnès Varda and JR)
---
BONUS FAVORITE THINGS!
FAVORITE THEATRE:

WAITRESS on Broadway starring Sara Bareilles and Jason Mraz was a magical experience. Both are musical idols of mine; I have CDs from Bareilles' college a cappella group and Mraz was my first-ever concert. When I handed my WAITRESS ticket to the usher, she said, "You look so excited!" Damn right, old lady, I was!
Being in the room where it happened for the live taping of JESUS CHRIST SUPERSTAR LIVE IN CONCERT in Brooklyn.
The hit West End musical EVERYBODY'S TALKING ABOUT JAMIE, about a teenager with dreams about being a drag queen, was broadcast in movie theaters and it reaffirmed my love for musical theatre.
BRING IT ON: THE MUSICAL, performed by Hillbarn Theatre Conversatory
These high schoolers were so damn talented and so full of joy. It was mightly impressive and inspiring, watching them leave every ounce of themselves onstage and killing Adrienne Walters' choreography and stunts.
FAVORITE PODCAST:

KEEP IT! – Ira Madison III, Kara Brown, and Louis Virtel's show about the collision of pop culture and politics through POC and queer lenses never fails to make me laugh out loud.
FAVORITE ALBUM:

DIRTY COMPUTER by Janelle Monáe
FAVORITE SONG:
"My My My!" by Troye Sivan
FAVORITE BOOK:
I was a year late, but I loved Angie Thomas' The Hate U Give. I sadly missed the film adaptation in theaters.
FAVORITE INTERNET THINGS:

Pretty much anything Adam Rippon said and did.
"Zendaya is Meechee" by Gabe Gundacker, which was stuck in my head for weeks.
"John Mulaney as Musicals: A THREAD" by @lildolewhip
This mashup of Britney Spears' Instagram story with Broadway music was absolutely mesmerizing.
Miss Vanjie – Even Andrew Garfield couldn't get enough!